Features
Powerful Features to run your business
Access Anywhere & Any Device
Our Cloud-based application can be accessed on any device from mobiles phones to tablets to laptop and desktop computers.
Mobile-Ready
Tablet-Ready
Laptop & Desktop Ready
Supports all major browsers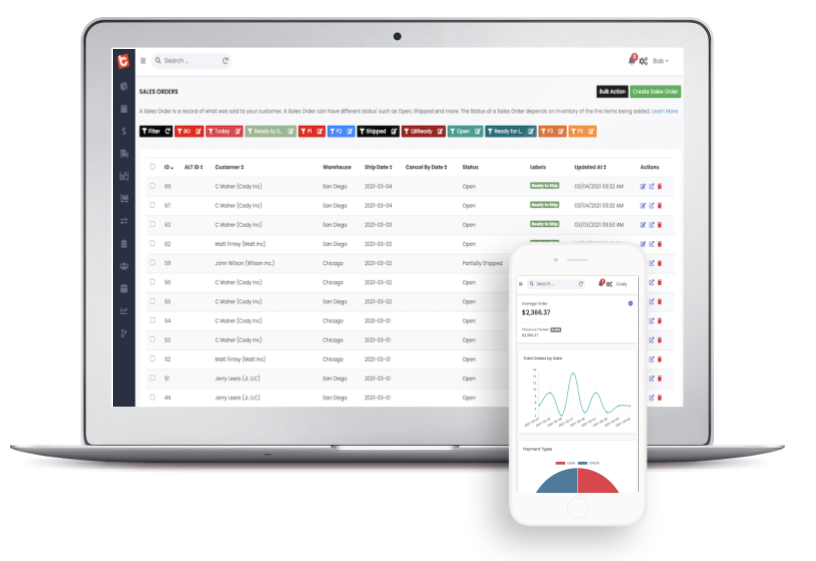 Complete Inventory Controls
Our software tracks inventory on 10 different dimensions of inventory like In Stock, Available Allocated, Committed and more. You can quickly search for SKUs, and see their levels across warehouses with one click. Get alerts when items are low in stock and flag them.
10 Different Stock Levels are tracked automatically
Lot Tracking
Serial Inventory Tracking
Kitting Inventory
Fractional Inventory Tracking
Assembling Inventory
Bill of Materials (BOMs) Inventory
Schedule a Demo
Contact us today for a free personalized demo for you and your team.
Warehouse Management in the Cloud
Tackle tough processes in your warehouse with our flexible receiving options and putaway docuemnts. Use Bin Locations to indicate where things are to be stored when received. And track other landed costs by creating PO Receipts.
Issue Purchase Orders (PO) to receive inventory from vendors
Set Bin Locations to Receive
Print Putaway Documents to manage receiving
Create PO Receipts to reflect landed costs like tarrifs and shipment fees
Transfer invenotry from one Bin location to another or from warehouse to warehouse
Order Management
Our order management features let you gain complete control over your sales process. Sales Orders can be filtered based on custom labels you create. Bulk Actions help to manage 100's of orders all at the same time.
Quickly place sales orders and quotes
Filter sales orders by custom labels and status
Bulk Ship Orders
Bulk Invoice Orders
Bulk push Orders to Ship Station
Bulk Apply Payments to Sales Orders
Inventory & Business Reports
Our reports have you covered from tracking inventory usage to invoicing and shipping. Filter your reports and save those filters to run your report again and again.
Lot Reporting
Stock History Reports
Inventory Usage Reports
User Usage Reports
Customer Reports
Inventory Usage Reports
Inventory Usage Reports
Payments Reports
Connections & Integrations
Instantly connect to other systems to exchange orders, process shipments, and handle specific accounting needs. Connect and do what you want with unlimited possibilities using our API and Custom Apps.
ShipStation
QuickBooks
Stripe
Online Marketplaces
API & Custom Apps
Schedule a Demo
Contact us today for a free personalized demo for you and your team.
Lot Tracking
Lead Commerce offers advanced features like Lot Tracking for more demanding and complex inventory controls.
Date of Manufacture Lot tracking
Track Inventory based on Expiration Dates.
Track Serialized Inventory for high end equipment.
Track Custom Lot IDs, Alternative Lot IDs, and Serial Numbers.
DIY Customizable Software
Lead Commerce allows you to customize any part of the software using our Labels and Custom Fields. Additionally, we offer advanced customization options with our Code Editor to build custom apps or features you need.
Create custom Labels and use them to build filters across Lead Commerce
Custom Fields to store needed information on other modules
Code Editor to create custom documents and simple custom app interfaces and reports
Workflows & Automations
Lead Commerce allows you to build Workflows that perform different actions in the software on their own. Attach a Workflow to an Automation and have the system perform these actions on a timed basis like once a day, once a week or every 15 minutes.
Build Workflows to automate your business
Run Automations every 15 minutes, hourly, daily and more.
Workflows and Automations let you auto send emails, invoices and handle all other business processes automatically.
Bill of Material Inventory Software
Use our Bill of Materials (BOM) inventory controls to assemble inventory in Lead Commerce. Use our BOM also to handle Kitting.
Customizable Bill of Material Setups
Use them on Kits and Assemblies
Pre-define BOMs or build them on the fly on Work Orders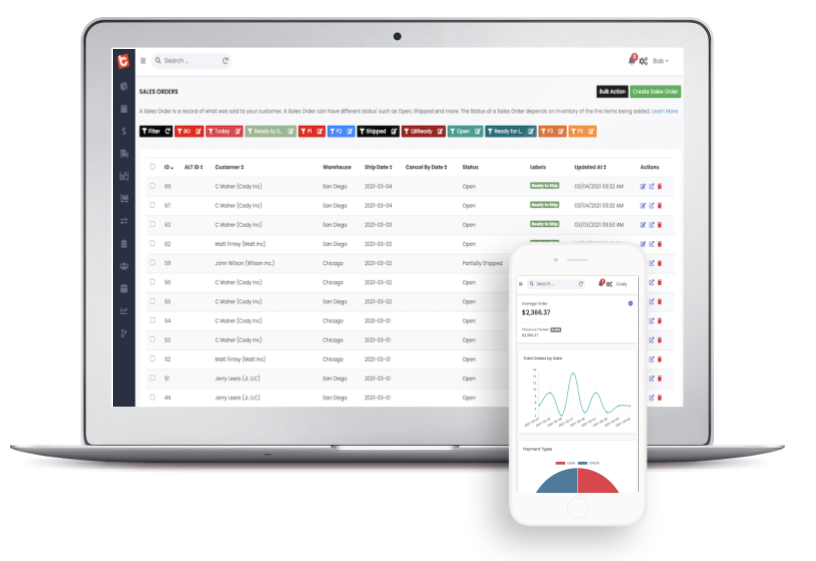 Bulk Actions
Bulk Actions allow you to apply chenges to multiple records at the same time. Bulk Actions are a powerful way to ship multiple orders out all at the same time, create invoices for shipped orders or apply payments to multiple orders all at the same time.
Bulk Actions for creating and shipping Orders
Bulk Actions for importing sales orders into Lead Commerce from other ecommerce platforms and marketplaces like Shopify and Amazon
Use Bulk Actions to Apply Payments to Open Invoices
Bulk Actions for creating Invoices
Bulk Action for email and printing docuemnts
Schedule a Demo
Contact us today for a free personalized demo for you and your team.
Testimonials
What they are saying about us
System is easy to use and get up and running with. Filtering and searching is a snap!
Saul Goodman
Ceo & Founder
We tried a few systems and they all were a little hard to use. Lead Commerce also has the ability to do custom apps which has helped us a ton.
Sara Wilsson
Designer
With a product like this, you will have questions and the support videos and live support are great.
Jena Karlis
Store Owner
I would recommend them to any business who is still using spreadsheets and needs to start tracking things well.
Matt Brandon
Freelancer
Our business sells fabric so we use this to track fractiional amounts of inventory and it has worked great from the start.
John Larson
Entrepreneur